NBL1 & BigV Falcons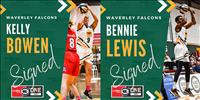 Kelly Bowen & Bennie Lewis Re-Sign for 2022
08/12/2021
The Waverley Basketball Association are pleased to announce that veterans Kelly Bowen and Bennie Lewis have re-signed for the 2022 NBL1 season.
Kelly returns for her 6th season at the club. Kelly has been a leader of the team for a number of years and is coming off another rock-solid season in 2021. Kelly has loads of experience at the highest levels including the NCAA and WNBL.
Co-Captain Bennie Lewis has also re-signed for his 6th season at the club. Bennie is a very experienced professional athlete having played in the NBA G-League and NBL- and comes with an incredibly high basketball IQ. Similarly, to Kelly he is also coming off a rock solid 2021 season. Bennie also coaches our VJBL Under 12-1 Boys.
Welcome back guys!
#WeAreWaverley