WBA News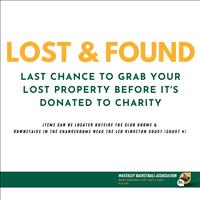 Last Chance - Grab Your Lost Property
02/12/2022
Last chance to grab all your lost property!
We have an abundance of lost property items at the stadium! All unclaimed items will be donated to Charity when the stadium closes for the summer break!
Lost property items can be found outside of the clubrooms and in the changerooms downstairs near the Leo Kingston Court (Court 4).
#WeAreWaverley